Hey Everyone,
Hope you all are doing lovely and feeling great! Its Monday so you know another
Dark-skinned Girls Rock!
feature is coming your way. Today we are featuring the lovely Brittany of
Brilliance of B
. Find out more about her below!
Everybody meet Brittany. Shes a 25 year old Software Engineer and Style blogger from Houston, TX!
Describe yourself in 3 words. Positive, hard-working, and adventurous.
Tell us about your personal style.
My personal style is whatever I feel at the moment. I love trying trends and tweaking them to work for me. But I must say that I'm such a classic, simplistic girl. Blazers are my best friend!
Who are your style icons?
Lauren Conrad, Olivia Palermo, Kim Kardashian, and I'm a huge fan of Street Style!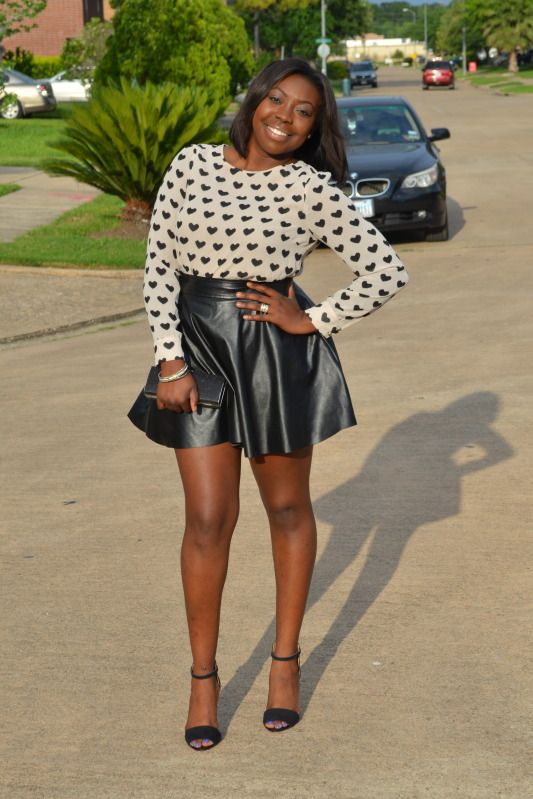 Have you ever struggled with self-identity issues because of your complexion? If so what are some things you did to accept yourself for who you are and love yourself? Being dark-skinned was something I always celebrated. It made me feel different from others, which I really enjoyed. My father was a big part of me loving my skin color. He would always tell me I was beautiful and to never forget it!
Do you have any advice for other dark-skinned women that are struggling with accepting themselves because of the color of their skin? My advice to those young ladies who feel that being dark is a not a good thing would be to remember that beauty comes in different shades and the people who are aware of that is who they should associate themselves with.
What do you like most about being dark-skinned? My skin color is beautiful! I love that I reflect my ancestors. I'll always remember a quote Marian Anderson, -- "None of us are responsible for the complexion of our skin. This fact of nature offers no clue to the character or quality of the person underneath."
Thank you so much Brittany for participating! Love that quote from Marian Anderson. I also love the advice you gave about associating ourselves with people who are aware that beauty comes in different shades. Don't forget to check out Brittany's blog
Brilliance of B
, and you can catch her tweeting @BrillianceBlog.
My dark-skinned ladies, if you are interested in participating in the DGR! series shoot me an email, cherrie.amore@gmail.com.
I need you lovely ladies to submit interviews to keep this series going. So don't be shy!
You DO NOT have to be a blogger, fashionista, vlogger, etc. This series is open to all! To find out more about the series, click
here
!