Hey luvs,
Hope you all are doing lovely and feeling great!
I hope you all had a lovely Thanksgiving holiday! Mine was great. Most of my extended family and I headed to my uncle's house in Long Island to celebrate. It was a night full of love, laughter, fun, and great food! I was a little bit sad the morning of Thanksgiving because it was the first Thanksgiving that I was away from my immediate family; it was also my little brothers 17th birthday which made me feel even more guilty for not going to my parents house to celebrate with them. But luckily they will be in town in two weeks!
Below is the outfit I wore on Thanksgiving. I opted to wear this loose fitting and comfortable dress because I knew that I would be eating good all night. I did cinch the waist of the dress with a slim black belt, but I took the belt off when I started eating and never put it back on lol...I didn't need it constricting my stomach haha.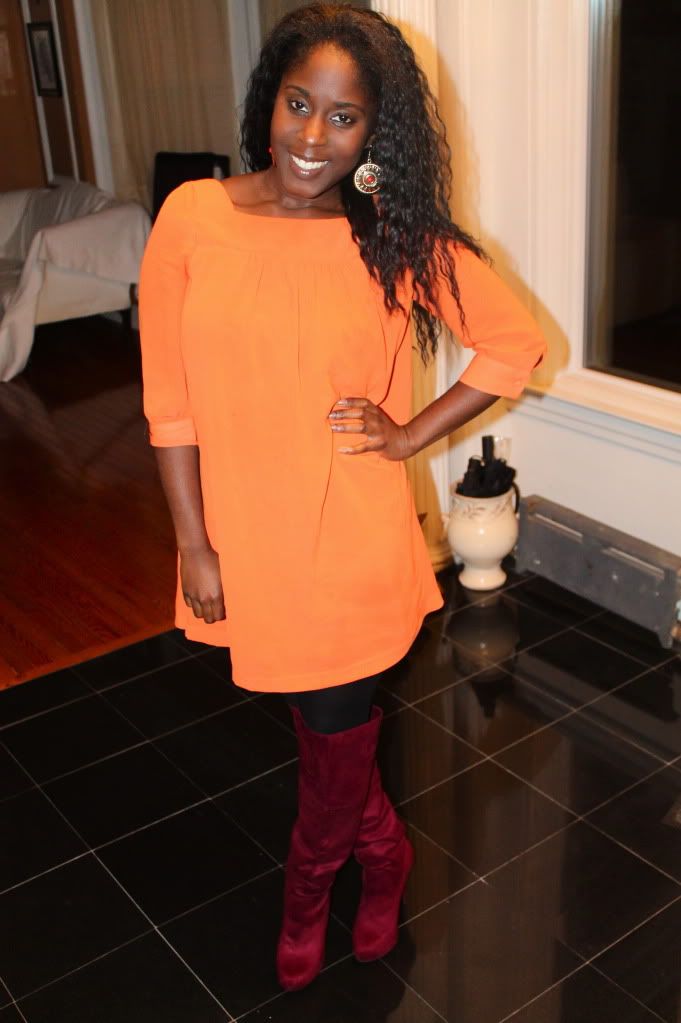 Earrings: F21
Tights: Conway
Dress: H&M ($15.00)
Oxblood ( I prefer the term Burgundy lol) OTK Boots: Shoedazzle Annalisa
Thanksgiving breakfast: fry bake, bacon, sausage, avocado, fried plantains, cinnamon bread, salt fish, and boiled eggs. My aunt made the salt fish and boiled eggs and I made everything else. If you're my buddy on instagram
(MsCherrieAmore)
this pic might look familiar to you.
Homemade sweet potato pie with Grenadian nutmeg and cinnamon made by yours truly. Yum! I posted this pic on my
Facebook page
the night before Thanksgiving.
I had extra sweet potato pie filling, so I decided to make a vanilla sweet potato cake with cinnamon sugar sprinkled on top. It was a hit! This is a picture of the cake before it went into the oven. I forgot to take one after I took it out the oven.
Sorry I had no pics of my Thanksgiving dinner. I was too excited about all the food and eating lol.
So how was your thanksgiving?
Hope you enjoyed this post!
xoxo
-Cherrie <3
P.S. Thank you to everyone who entered the
Pulling Strings
giveaway
! The winner is Stephanie Peete! I will be emailing you soon with more information! Also thanks to everyone who left feedback on the "
Let Me Pick Your Brain
" post"! I am considering everything you guys said. :)